Comparing N95 and KN95 respirator masks
In light of protective mask shortages across the United States, the Food and Drug Administration announced on April 3rd that it would allow the use of the KN95 respirator — a widely available mask that meets standards set by China's government. Nearly identical to the American N95 version, this article aims to explore the differences between the two models.
Browse our N95, KN95 and other PPE products
We've leveraged our 15+ years logistics to deliver high quality, genuine PPE items. Our company is FDA Registered and trained in helping customers identify ideal solutions all scenarios.
Browse PPE
Looking For a Face Mask Customized with Your Logo?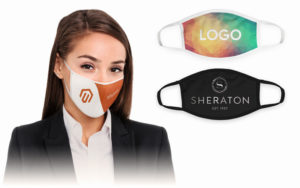 Our Custom Face Masks feature a large, edge-to-edge printing area that allows for full color printing of your company's logo, tagline, and brand message.
Custom Face Masks
N95 vs. KN95
N95 and KN95 merely refer to the class of filtering facepiece respirators (FFR), which are subject to various regulatory standards around the world. FFRs are tight-fitting respirators that must seal to the wearer's skin to work correctly. It reduces the amount of airborne particulates that a wearer inhales. 
Before diving into the similarities, it's important to understand some key pieces of info. 
The N95 is the American standard.
The KN95 is the Chinese standard.
Filter performance is evaluated to measure the reduction in concentrations of specific aerosols in air that passes through the filter. 
The test agent refers to the aerosol generated during the filter performance test. In this case, it was sodium chloride. 
Total inward leakage (TIL) refers to the amount of a specific aerosol that enters the tested respirator facepiece via both filter penetration and face seal leakage, while a wearer performs a series of exercises in a test chamber. 
Inward leakage (IL) means the amount of a specific aerosol that enters the tested respirator facepiece, while a wearer performs a normal breathing for 3 minutes in a test chamber. The test aerosol size is about 0.5 micrometer. 
Pressure drop is the resistance air is subjected to as it moves through a respirator filter.
| | | |
| --- | --- | --- |
| Certification/Class  | N95  | KN95  |
| Filter performance – (must be ≥ X% efficient) | ≥ 95% | ≥ 95% |
| Test agent | NaCl (Sodium Chloride) | NaCL (Sodium Chloride) |
| Flow rate | 85 L/min | 85 L/min |
| Total Inward Leakage (TIL) | N/A | ≤ 8% leakage (arithmetic mean) |
| Inhalation resistance – max pressure drop | ≤ 343 Pa | ≤ 350 Pa |
| Flow rate | 85 L/min | 85 L/min |
| Exhalation resistance – max pressure drop | ≤ 245 Pa | ≤ 250 Pa |
| Flow rate | 85 L/min | 85 L/min |
| Exhalation valve leakage req. | Leak rate ≤ 30 mL/min  | Depressurization to 0 Pa ≥ 20 sec |
| Force applied | -245 Pa | -1180 Pa |
| CO2  clearance req.  | N/A | ≤ 1% |
*Source: multimedia.3m.com
FAQs
N95 – what does that mean?
The number on a NIOSH-rated mask signifies the filtration effectiveness of the filter. Both N95 and KN95 masks are required to stop at least 95% of particles of 0.3 microns in size.
So why were KN95 masks deemed a suitable replacement?
The FDA said KN95 masks were eligible for authorization if they met certain criteria, including documentation that they were authentic.
According to The New York Times, hospitals have not been willing to order KN95 masks based on uncertainties over certain imports being allowed into the United States, in addition to the potential liability if the masks turned out to be counterfeit. 
Why isn't there a shortage of KN95 masks?
In China, Coronavirus transmission has been reduced, therefore more masks are available.
Should I be worried about importing issues?
The FDA adjusted its import screening to expedite imports of legitimate products and will continue to monitor its import systems to prevent and mitigate any potential issues. 
Can CustomUSB help me procure respirators?
Yes. As an FDA-registered facility, we're leveraging 15+ years of product sourcing expertise and our quality control team in Asia.  Our trusted supply chain partners produce genuine certified PPE articles such as N95 / KN95 respiratory masks, hand sanitizer and other safety essentials. 
Browse our COVID-19 Safety Solutions Product Catalog, or contact us for more information. 
Key Takeaways
KN95 masks are the standard masks that are intended for the vast majority of wearers. They are the same as N95 in the U.S.
Certified KN95 masks are suitable replacements if N95 masks are in short supply.
The FDA concluded, based on the totality of scientific evidence available, that certain imported respirators that are not NIOSH-approved are appropriate to protect the public health or safety.
On April 3, 2020, in response to continued respirator shortages, the FDA issued a new EUA for non-NIOSH-approved N95 respirators made in China — making KN95 respirators eligible for authorization if certain criteria were met, including evidence demonstrating that the respirator meets certain standards.
Download Infographic: N95 vs. KN95 Comparison Infographic