Case Study
When Emmy nomination season approaches, studios start to get creative. They do everything in their power to wow those on the Emmy nomination voter list. Everything from lavish parties to spending big bucks on billboards and posters. Anything to get their shows seen by potential voters.
Of course, one of the best strategies is to send the people on the voter list actual hard copies of the shows that the studios want them to nominate. This classy and simple method was the strategy VICELAND (a television channel owned by Vice media) took when they commissioned CustomUSB to create one of a kind VICELAND themed USBs that contained episodes from some of their knock-out series.
Project Objective
We sought to create an awareness campaign for some of VICELANDS' most popular TV shows. The campaign, named FYC (For Your Consideration), aimed to garner the attention of the people who select the final ballot of Emmy Award nominees.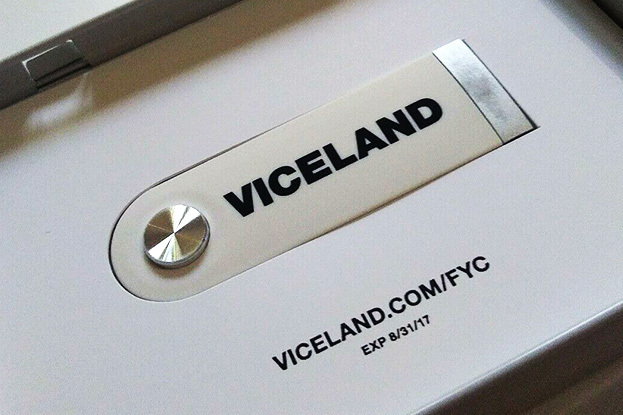 How We Did It
This USB needed to not only function as a delivery mechanism for the episodes that the creators wanted to show off to voters, but it also needed to visually represent the brand as a whole. The USB needed to stand out from the crowd and entice voters to learn more about its contents. Pulling that off meant the team needed to pull together a perfect pitch and put on their collaboration hats.
Ready to start?
Learn how our team can help you create the WOW!Start a Project
The Approval

Reaching a final design took a considerable amount of time. Both the team and the television channel wanted to ensure that the USB and packaging straddled the line between unique and streamlined. Therefore, there were multiple concepts pitched and creative strategy meetings held before a final design was reached.
The Design
The VICELAND TV channel caters to millennials and centers around lifestyle docuseries and reality shows. The brand is authentic, but they don't take themselves too seriously.
Spike Jonze, the co-president stated it best, "We just made things that we are interested in, that we think are funny, and that we care about." Trying to distill that sentiment into a USB is no easy feat, but our team came up with a design that was clean and simple (playing off of the authenticity of the brand) but was also fun and trendy (the case itself mimics a stash tray). The mix of bold lettering, simple white, and the splash of humor was able to mimic the brand style perfectly.
The Hurdle

The difficult part of this project was the time frame. There was a mandatory due date. The VICELAND Tin was included as part of a larger box which also contained an FYC Emmy DVD pack from A&E (A&E owns VICELAND). This package needed to be mailed out to the recipients around the time that they would receive their letters regarding their vote. While it was a tight time frame, we managed to complete the project in 30 days and made our deadline.

Tech specs

-16GB, Preload with video content.
-Slider USB Flash Drive with Rubberized finish
-White Tin Packaging to resemble a stash tin
Materials

-Rubberized ABS and Metal

Final Product Description
The FYC (For Your Consideration) USBs arrived at the voter's homes in Individualized custom kits which included white "stash" tins and preloaded videos on the USB. The tin also contained an information pamphlet with the names and photos of each show.
The USB contained one episode of select shows. The list of shows was as follows:
Black Market
Bong Apetit
Desus & Mero
F*ck That's Delicious
Gaycation
Hamilton's Pharmacopeia
Hate thy neighbor
Jungletown
King of the Road
Noisey
Rise
Weediquette
Gallery
VICELAND FYC USB and packaging

Close-up of VICELAND USB

Inside of VICELAND USB packaging

Top of stash tin USB packaging
The Result

They WERE nominated! At the 2017 Emmy awards (the year this campaign was run), VICELAND was nominated for the category "Unstructured Reality Program." VICELAND was nominated for the show Gaycation with Ellen Page. The following are the other programs that were nominated, as well as the Emmy winner:
Unstructured Reality Program
Born This Way (A&E)
Deadliest Catch (Discovery Channel)
Gaycation With Ellen Page (VICELAND)
Intervention (A&E)
RuPaul's Drag Race: Untucked (YouTube)
United Shades Of America: With W. Kamau Bell (CNN) – Emmy WINNER
This successful campaign indicated that custom USBs can be an excellent "For Your Consideration" campaign tool. They allow TV channels to put their content in front of award nomination voters while also allowing their unique brand style to shine.