20 Incredible Conference Gift Bag Ideas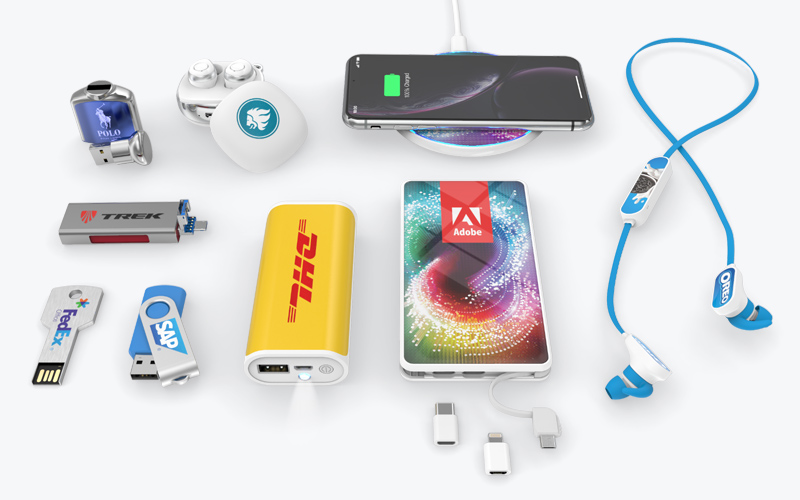 So, you want to give away free swag at a conference, but you don't want people to throw away the gifts? There are some definite things to avoid, and ideas people will love when it comes to filling a swag bag. Conference gift bags are responsible for $20 billion in business around the world – meaning, you must put some effort into this thing. Don't just get a cheap bag with your logo and throw a few goodies in there that people won't even want to put in their suitcase… give them something fun, usable, high quality, and most of all, memorable!
We know how challenging it can be to find the right items that all the different people at your event will love, and props to you for taking the time to do it right! Read on for more tips and our list of favorite conference bag gift ideas.
Learn How People Take It Or Toss It 
People trash their event bags in their hotel, or they stow them away in a closet when they get home, and your gifts never get to see the light of day. People will take free stuff because it's a psychological impulse, but later they realize they don't actually want it.
Don't want this to happen to your bag? You're in the right place. Let's look at what makes people decide to take or toss conference bag gift items:
Take:
Info that's super-tailored to the attendees;
Tech and electronics;
High-quality items they can use or even give away to friends;
Gifts tailored to conference attendees (for instance, gamers or corporate workers).
Toss:
Paper printed with information;
Liquids that can't get through airport security (sauces, wine, lotion, etc.);
Cheap/low-quality swag, like t-shirts, hats and basic keychains with no purpose.
Probably the easiest way to decide if a product is "take" or "toss" is to imagine it with a logo other than yours and think whether you would use or toss it.
Reasons Why People Love Taking Gift Bags Home: What Should be Considered
If you want your attendees to take their gift bags home and rave about your swag bag, there are a few things to consider:
Telling a story: The key here is to make the entire gift bag tell a story with your conference. Think of the bag and all the items as a whole.
Your event and people attending: Make sure the bag and contents are tailored to the attendees. Take into account things like average age of attendees, their income and interests. If you have multimillionaire attendees, for instance, the bags must be more high-end. If your budget is low, make a limited number of bags. Then, either make them available only to the first 100 guests, or make a drawing to win the bags during the conference.
Budget: You don't want to spend all your budget on one item and then just have junk items for the rest. Make sure the bag itself is high quality and reusable, and that gifts inside are also usable and high-quality.
What Should Be Included In A Conference Gift Pack
To help you figure out the best conference gift bag ideas, we curated a list of high-quality, universally-liked and usable items that anyone will love. Even if they don't, they'll still keep them to give them away to their kids or friends.
Here's a short list of our items, and descriptions follow, so read on for more info on each product:
Sleek Printable Wireless Charger
Phone PopSocket HingeGrip Holder
Custom Bottle Opener Flash Drive
20 Unique & Affordable Conference Gift Bag Ideas

Everyone can use a good pair of earbuds. You never know if someone's pair stopped working or they forgot a pair. Whether these are taken as backups, primary, or to give away, they won't go in the trash if they're good quality and attractive.
These custom-shaped earbuds are truly one-of-a-kind, because you can print your logo or design on an actual custom 3D shape on the earbud. They also come in matching custom tube packaging.
You can also go with wireless earbuds, which are customizable along with the charging case they come in.

These fully customizable Qi Wireless charging pads will be the talk of your conference giftees. Wireless charging is cutting edge right now. For any travelers who are from another country with different charge ports, or simply forgot to bring their phone charger, you'll be their savior.
These chargers have full-bleed, edge-to-edge printing for your full color logo. They work with all compatible devices, and are eco-friendly with built-in safety protections.

Now that Zoom meetings are the norm, and people talk on video chat to family and friends regularly, webcams are excellent choices for any giveaway.
The light-up 1080p Webcam is a wide-angle, HD camera that will give more lighting than using a laptop camera with its 3 levels of LED brightness. It has a dual noise-reduction microphone for better sound delivery and is fully customizable with your logo and a lifetime guarantee.

Choose from these Bluetooth speakers in a variety of shapes for an excellent add-on to any conference gift bag. They all come with high-quality sound and ample branding space. People will find these super usable and attractive, and love them for their sound quality. They also make perfect gifts so people will take, not toss these gems either way.

Who doesn't have a use for an extra USB cable to charge their phone or other device? These cables are uber-customizable with both your logo and 3D logo shape. They're available in three styles: standard, zipper, or LED. You can also get a variety of connectors like the standard mini USB, micro USB, or USB Type-C (USB 3.1) so people can choose a bag with a cable that fits their device.

Choose from a variety of power banks for one of the most well-liked conference gifts. People will need to charge their phones and devices during the conference, and will love taking home an extra power bank.
You can even match your logo or conference theme with the material of your power bank: choose from PowerTile, PowerTile Metal, Wood, Glass or Carbon Fiber, to the PowerCard.
All power banks include built-in cables and adapters in the body. They come with a high-grade lithium polymer battery, compatibility with all devices, and safety and charge protections, as well as a lifetime warranty. You can print your logo with high-quality printing on any of our models as well.

A flash drive is basically a must-have for any conference gift bag, because it can replace all those print-outs that were destined for the trash bin. Just include the desired files in the flash drives in your order, and you'll be able to give attendees something they are sure to keep to use themselves as well as to have the information in their hands you want to give them, and even include videos and presentations.
Choose from this wide selection of all kinds of flash drives, from the most popular spin drive to a custom-shaped drive if you can't find one that suits your conference needs. Print your logo or message on the drives so people will remember you as they continue to use the USB for themselves.

A UV sanitizer wand is the perfect addition because it cleans phones and all the other devices in the gift bag, plus laptops, door handles, office supplies and toys. It comes with a charger and will be a perfect gift for attendees looking for an easier way to clean their tech.

Some people think mugs are overrated for conferences, and that may be true; however, the high-quality travel mug is definitely not overused (and, if you do want regular mugs, we have those too – because people still love free mugs).
The Explorer Mug is vacuum-insulated with a copper plated inner wall, and comes with a tight-locking lid to prevent spills, plus a cork base so it can be placed on any surface without a coaster. It also has a handle so it can clip onto a bag, and will keep drinks at their original temperature for 12+ hours. So your conference attendees can get their coffee, clip it on their bag and drink it all day long at your conference and on the plane ride home. Print your logo with laser-etching or color printing that will last for the lifetime of the product, which has a lifetime warranty.

A current idea to include in a conference gift bag is an essential health kit that includes PPE gear. Attendees may have forgotten this gear and will appreciate it either way as these are items that can help them clean their tech and hands, and masks, all of which can continue to be used in the future.
Some of the items to include are:
Custom printed facemask – Made in the USA with a flexible polyester/spandex blend, you can spread the word about your brand wherever people go with excellent design that they'll want to wear (our design team is ready to help with design choices). They come in 4 different sizes and include pockets for filters, and are machine washable.
Clean Case UV Sanitizer – This case is a wireless charger and sanitizes phones and items inside the case. The wireless charger is on the top of the case. There is a giant branding area on the case so you can generate impressions.
MistCube Touchless Sanitizer Dispenser – These brandable cubes can be filled with sanitizer, which then will mist onto hands with no touch required.

Give your conference attendees high-quality tumblers that will last, and certainly won't ever have to see the inside of a trash can. Choose your desired size and shape to print your logo in high-quality printing that will last the lifetime of the product.
Tumblers are vacuum-sealed and hold temperatures for 12+ hours, so they can be used all day long (like during the conference), and include tight-locking lids. Choose from the Frost or Gala tumblers which are larger, or the Cece wine tumbler, for whichever one matches your conference and guests.

The HingeGrip Phone Holder is an innovative take on the PopSocket. It attaches to the back of a phone to function as a phone holder or stand, so people can use one hand to take photos or text, and stand their phone on its side to watch movies or video chat. When they're done using it, it collapses flat using the hinge to fit in a pocket or bag.
The flat area of the holder also functions as a printable branding area for your unique logo, image or message so you can generate impressions everywhere people use their phones.

Choose from insulated or plastic, BPA-free water bottles for your conference gift bag. Everyone needs a good, high-quality water bottle, and they'll love it from the time they begin using it – probably at your conference!
Whatever kind of bottle you're looking for, it's in this list… from vacuum-insulated, copper-walled, temperature-controlled bottles to plastic, BPA-free ones, all in a variety of sizes and lid styles. Print your logo or message on each one of these bottles with high-quality printing. All the bottles have a lifetime warranty, and the printing will stay on the bottle for the lifetime of the product.

This handy little tool can be used on phones, elevator buttons, ATMs, cash registers, and more places to avoid germs and contamination. It also functions as a bottle opener and a hook for opening doors, flushing toilets and more – so that people can use it for whatever they find most useful! It's just a handy gadget people will not want to live without once they have it.
The No Touch Tool goes on a keychain and is also brandable, so you can print your logo or message on it.
Choosing custom packaging for your conference gift bag will add to the excitement and ensure you make impressions – and then gain impressions off of your gifts!
The custom packaging is all eco-friendly and sustainable, which people will definitely appreciate, and everything is customizable, from the colors and design to the shapes.
You don't have to feel overwhelmed with design – our design experts are here to help you create the perfect packaging for your conference gifts!

Give your conference attendees something unexpected – MircroSD cards for their cameras, phones or other tech! These have a lot of storage and include an adapter. These can be customized with your logo, so people will think of you every time they think about what money they saved on yet another memory card – especially if they run out of room and need another one.

Pens may not be the most appreciated conference gift, but if yours includes a USB flash drive, it will certainly stay in the bag and not end up in the trash.
The USB inside the pen has waterproof memory with high performance. It's scratch, dust, and impact resistant, and magnet and x-ray friendly, so going through airport security on the way home won't be a problem, and people don't have to worry about dropping the pen, tapping the pen, or spilling coffee on it.

If you're worried that people have too many flash drives, choose this bottle opener USB – people will definitely love this 2-in-1 gadget they can take everywhere with them – both the office and parties. It's made with metal alloy and the USB drive has waterproof memory and is scratch, dust, and impact resistant, and magnet and x-ray friendly.

Instead of plain old lanyards for conference attendees' name tags, why not go with these custom USB lanyards? The USB is fully detachable so people don't have to keep it on the lanyard after the conference if they don't want to, but your logo will still be on the detachable part as well as the lanyard itself. Under the USB is a clip for the name tag which, after the conference, can be clipped onto a bag or laptop case for easy transport.
The USB is small and ideal for travel, as well as eco-friendly. It also has waterproof memory with high performance and reliability that's scratch, dust, and impact resistant to protect your valuable digital assets, and is magnet and x-ray friendly.

Let your conference attendees experience life free from rattling and poking keys with this customizable key holder. It can hold up to 6 keys, or even more with included extension screws, so everyone can find it usable no matter how many keys they carry around with them.
This key holder also includes an optional loop to attach car keys (or any other keyring), as well as a bottle opener attachment. It also has ample space for your logo or message.
Conclusion
To sum up, here are 5 things to remember when choosing gifts for your conference gift bag:
Your budget
Attendees – age, income level, likes and dislikes in common
Universal and high-quality items, especially tech, are the best options
Take or Toss – would you use it if it were not your logo on the item?
Telling a story with the gift bag
We hope this list has given you some great starting points and ideas for your conference gift bag. We know it's difficult and would love to help you with a custom kit and design for your swag bags. Just click on "chat now" at the bottom of one of the product pages and we'll make your job easy!