Custom Swag Kits Make Magic Happen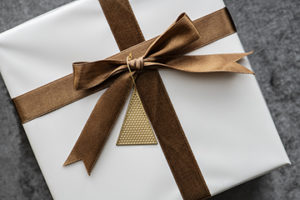 Imagine choosing between two gifts. Once is a known quantity in store packaging, the other is beautifully wrapped in paper in a bow. Which gift is more interesting? Which one feels more personal? Which would you choose?
Most people would be drawn towards the second gift, not because they love wrapping paper and ribbons, but because of what the packaging represents: the time, care and love of the person giving the gift, as well as the secret the packaging conceals. A wrapped present is a little love note and miniature mystery in one, making you feel happy and excited; an unwrapped gift is a transaction. 
As marketers, we can take some valuable lessons from that. If putting something in a box with a bow transforms it from pedestrian to meaningful, regardless of what's inside, what can we accomplish when we put our creativity towards special packaging for our products? After all, even familiar products and workaday documentation can feel unique and exciting when they're nestled in a beautiful box. That's a big reason why promotional products remain the most liked form of advertising, according to the Advertising Specialty Institute's 2020 Global Ad Impressions Study. (Plus, it's just fun to open stuff!)
One place where this kind of thinking can really make an impact is with promotional and swag kits. Broadly, these are bundles of products and literature in presentation-ready packages that help sell to and build loyalty with clients and customers. At the end of the day, kits tend to consist of things people have already seen or can see elsewhere — your products, your marketing material — so the challenge is in making the whole package so interesting and enticing that your audience responds with the same sort of excitement they'd have getting a present from a friend. 
If you're looking for ideas about what you can do with promotional and swag kits we've got some ideas around the most common ways companies use promotional kits to support their marketing materials and boost sales.
Sales Samples
Sell your services and products

Support sales as presentation aide

Educate potential clients and users
Great for presentations and situations like conventions where you can expect to meet a lot of potential clients, beautifully packaged kits can help give you the extra interest you need to close the deal and increase sales. As you're designing sales kits, think through the experience of a new user or prospective client. What questions might they have? What issues might they run into early when using your product? Business cards, educational literature, helpful diagrams, even other products that go well with the core offering — these can all help turn the package into a unique educational and sales experience for your audience.
Influencer Kits
Evangelize social media influencers

Harness influencers' reach

Build audience excitement online
Interested in taking advantage of influencer marketing to grow your brand? Getting popular social media users to promote your products can be a great sales tool, but it's always more effective when they're genuinely enthusiastic about your brand and products. Attractive influencer kit packaging can help get new partners on board. Don't stop with selling your target influencers, though: You can design packaging around how you want your influencer to use it. Great packaging can elevate unboxing and use videos, serving as a great hero in featured media.
Welcome Packs
Make new members/subscribers feel special

Educate and enthrall with custom content

Hold important documentation
Do you sell memberships or subscriptions? Make joining up more memorable with welcome kits that lay out the benefits of belonging in a luxurious package. Paperwork, informational literature, promotional material and whatever else your new members need to get started can be boxed so that just getting your forms filled out can feel as exciting as opening a new smartphone. Make sure whatever you include is as unique and personalized as possible — remember, the appeal of custom kits and packaging lies largely in the feeling that the customer is getting special attention!
Marketing & Press Campaigns
Stand out from standard PR material

Engage jaded readers 

Support your message with products, literature — your imagination's the limit
If you're trying to get the word out — about a new brand or initiative, say — these kits can educate and engage your audience with information, samples and more. Clever design can be especially helpful here. The more attention-grabbing you can make the packaging, and the more memorable you can make the contents, the more likely you are to get interest and uptake. Really getting the notice of an industry journalist or big prospective client with an innovative press release kit can be worth any number of standard paper releases that struggle to get traction.
Product Launches
Sell new products

Educate new users

Grab attention on the shelf
New product? Special launch packaging can really help position and sell the new item, with supporting information in the packaging to help educate new and existing customers while high-quality materials boost the perceived value of the new product. As with sample kits, be sure to anticipate how your audience will use your product and include instructions, suggestions, case studies, supporting products, whatever you need to make the first impression really great.
Menus, Binders & Invitations
Make recipients feel like VIPs

Build brand awareness

Add professionalism to documentation
If you're planning an event, promotional packaging can come in to play before, during and after the big day. An elaborate invitation can make every guest feel like a VIP, while a custom menu can lend a fine-dining feel to your meal. And if it's a virtual event? All the more reason to put some extra effort into your invitation and supporting material! A good invitation kit can help you create some of the feelings of inclusion and excitement your audience might usually get at a live event. 
Even if you're not thinking about a big to-do, attractive binders can add a sense of professionalism to service menus, product documentation and more, building your brand's equity whenever customers come in contact with them.
Publishing Subscription & Limited Editions
Boost on-shelf appeal

Increase product value

Give audience something they'll keep for years
Keepsake versions of products you already offer can be great for aficionados and brand loyalists, with commemorative packaging that they'll hold on to for years. Special editions can also serve as great sales tools on the shelf. A limited run of a popular product with unique packaging — think a holiday edition or something celebrating your company's anniversary — can help with attracting new customers and getting existing customers' attention, meaning more people buy your product at a higher price!
Sustainable Materials
Help the environment

Signal your values 

Build customer loyalty
Sometimes the packaging itself is part of the story. Many companies and consumers are interested in reducing their environmental footprints by wasting less — in fact, 46% of consumers have a more favorable opinion of companies that make environmentally friendly promotional products, according to the Advertising Specialty Institute — and you can signal your support with your packaging. Recycled materials, sustainable manufacturing processes, products designed to be upcycled — there are a lot of ways you can create kits that support your brand's commitment to the environment.
Music & Entertainment
Build your brand through association with media

Enhance value

Add to user experience
Box sets give buyers a convenient, attractive way to store their media while also drawing attention on the shelf. While legacy media like vinyl and DVDs lend themselves well to this treatment, make sure you're thinking outside the box: a kit of custom USB drives could come preloaded with movies and music, for instance. 
Like the limited editions discussed above, this can be a great way to add actual, dollar-signs value to your products without increasing your costs much at all: A well-designed special edition of a movie or album can entice fans to buy something they already own, and a beautiful box set is a more attractive gift than just buying its contents piecemeal.
Don't stop there.
These ideas are just the beginning — anything that goes in a box can benefit from some creative thinking around what that box looks like and how it functions. When your goal is to sell, anything you can do to increase interest and engagement with your product or service will be valuable to you. 
If you're ready to get creative with how you use kits to package and sell your brand, your products and your company, get in touch with CustomUSB. Our team of experts is ready to help guide you through the process of creating great custom kits from start to finish.